Yoga Friends
offers goal-centered, adaptive practices utilizing appropriate, customized tools of yoga therapy. Sessions may include targeted yoga postures, breath work, soothing sound, hand positioning, concentration, mindfulness, meditation, relaxation and visualization practices.
With her warm and nurturing spirit, Owner and Founder, Ann Brownfield Meara helps kids and
teens of all abilities
make connections within themselves and the world
around them. She has served the special needs community since 2006.
An IAYT certified yoga therapist, Ann
works individually with children and teens in homes, schools and family service and health settings. She
collaborates with both
parent and child as well as other professionals to understand student goals and needs. For each student, Ann develops and facilitates a recommended supportive practice.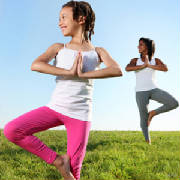 Ann is a gentle and kind Yoga Therapist and we are so grateful for the many ways she has helped our daughter to blossom over the past year. Thank you, Ann!
Yoga Friends Parent, Kenilworth, Illinois
Ann Brownfield Meara, Owner and Founder
M.S., C-IAYT, E-RYT 500, R-CYT, C-Meditation
A pioneer in the field of adaptive, goal centered practice
Ann is
a Certified Yoga Therapist with 12 years in the field of adaptive, goal centered practice. She is a member of the International Association of Yoga Therapists, one of the first recognized by the organization as a seasoned professional in the field.
A graduate of Northwestern University's Medill School of Journalism and its certificate program in art therapy, Ann is creative and multi-faceted. She draws from modalities such as mantra, yantra and tarka (sound, symbol, writing/reflection) to enhance the yoga practice and meet student goals. Ann is also certified in meditation.
A Yoga Therapist to children/teens of all abilities since 2006, Ann founded and owns Yoga Friends for Kids. She is a registered children's yoga teacher.
Ann works extensively with kids and teens with Autism, Downs Syndrome, Cerebral Palsy, and learning differences privately and within a high school special education department. Her goal centered, adaptive yoga therapy approach has been equally successful with general education children, teens and adults.
Ann offers support in the Chicago area—within a children's hospital, in special education and through private practice with adult and youth clientele.

Ann has really helped our son manage and reduce stress through yoga breathing techniques. In fact, our whole family has benefited! We have also noticed an increase in our child's self-esteem as he has gained more self-awareness. Yoga Friends Parent, Wilmette, Illinois
• Private sessions in the home are available
by appointment through Yoga Friends for Kids.
• Connect with Ann at annbrownfieldmeara@gmail.com
• Learn about Yoga Therapy and Meditation in the Great Outdoors!